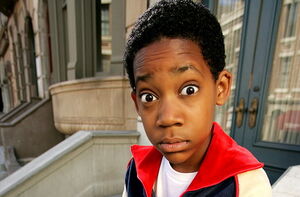 Chris [played by Tyler James Williams] is the protagonist of the show. Chris was born on June 5,1971. He is the eldest son of Julius and Rochelle, and the older brother of Drew & Tonya. He is ambitious, responsible, kind-hearted, but awkward and usually unlucky.
At the beginning of the series, he's 13 years old. In the season premiere, he starts his first day at Corleone Junior High School where he is a target for the school bully, Joey Caruso. He gets in a fight with him after school. Also on his first day of school, he befriends fellow outcast, Greg Wulliger. His teacher, Ms. Morello is nice towards Chris, but comes off as unintentionally racist.
Chris is often put in charge of his younger siblings, Drew and Tonya when his parents are away. For some reason, people seem to hate him for unexplicable reasons. He's bullied at school, tortured by his sister, shown up by his brother, gets his money stolen by the neighborhood bullies, gets tough love from his mother, and distressing treatment from his father.
In the second season, Chris is seen working at Doc's grocery store and he runs for 8th grade class president which he wins, but ends up getting impeached due to making false promises. In the third season finale, Chris finds out that Greg is going to the Bronx Academy of Science and tries to get in, but fails to.
In the last season, Chris attends Tattaglia High School where he helps out the football team and takes home ec. When Greg gets kicked out of the Bronx Academy, he ends up at Tattaglia with Chris. In the series finale, Chris is told if he's late for school, he'll have to repeat the 10th grade. When Chris is late the next day and is told he'll have to repeat 10th grade, he decides to drop out of high school. At first Julius and Rochelle are against the idea, but they decide to support him. Chris takes the G.E.D. test and at the end of the episode, Julius has the results of Chris' test. The last thing Chris asks is, "What's it say?" and the scene goes to black, ending the series.